{model.lang.admin}
{model.lang.design}
{model.lang.resource}
{model.cPage | remove_ | capitalize_first}
{model.stage | add 1}
Get Started
To get started, you'll need to install PitchPrint plugin on your store.
Click on the button that corresponds to your store type:
A PitchPrint Design is a template that your customers can speedily customize and order.
Every design belongs to a category. Think of a category as a folder
Every design in your PitchPrint account is reflected in your Store Admin and can be linked to any product on your store through the PitchPrint plugin
You can either import a design from our Designs Store or create one from scratch to reflect your unique product
Assets are resources you assign to a Design that becomes readily available for your customers to use while customizing their designs. Assets include: Fonts, Pictures, Shapes, Colors and Text Arts.
You can assign individual assets to different design templates as each product may require its own unique resources. You can also assign resources to a collection of designs under a category.
Of course, you can create your own collection of assets by uploading your own Fonts, Images, Shapes etc.
Once you have the PitchPrint plugin installed on your store, you will find all the designs you created in step 2 and assign any to your products. So when your customers view your product, they have the option of personalizing them.
To assign a design to your products, you first create a product or edit an existing one and depending on your cart framework, you will see PitchPrint designs drop down listing your designs
There are PitchPrint modules that makes it possible for customers to swap designs while editing or change design preferences like colors, options etc.
Now navigate to your store admin, create a product and assign your newly imported design to it.
Navigate to the new product on your store. You should find Customize Now button.
If it doesn't have that button, possibly something went wrong with the installation or you have not assigned a design to the product
Clicking the Customize Button will load the editor in full screen. We have other display modes: Inline which will appear along with your page content and Mini mode which is a striped down editor. You can choose these options in the settings page.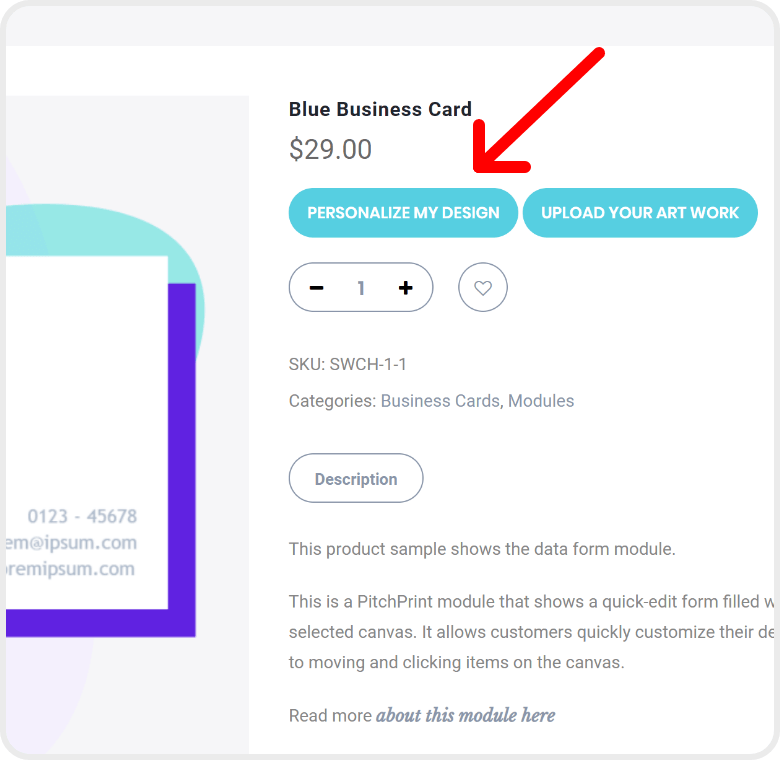 When an order is placed with a customization, you can download the printable print files either from the order details in your store admin or from PitchPrint admin's Projects page
You can download high resolution PDF files or raster PNG / JPEG images
PitchPrint also has webhook integrations that makes it easy to automate your process by sending print files directly to the print company when an order is placed along with the order details